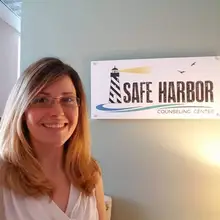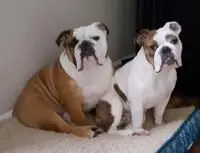 Lisa M. Frazier, LPC, LMFT and TDI Certified Therapy Dogs - Champ & Molly Frazier
---
I have been providing counseling services to individuals, couples, and families for over 10 years and licensed as a Professional Counselor and Marriage and Family Therapist since 2014. I completed a Master's Degree in Couples and Family Counseling from the College of William and Mary in 2012 and have an array of clinically intensive experiences. As appropriate, I work collaboratively with community providers and support systems to provide a holistic model of care. I specialize in working with individuals struggling with various forms of depression, anxiety, trauma, grief/loss, behavioral difficulties, and complex family dynamics.

I utilize an eclectic and holistic approach, ranging from CBT, DBT, ACT, Solution Focused, Structural Family, and Animal-Assisted Therapy. I strive to integrate creative strategies into counseling for the purpose of enhancing strengths and building skills. Further, I am passionate about incorporating your spiritual or cultural beliefs, whenever appropriate.

Fun Facts: I was born and raised in Southern California and lived in Virginia for 15 years. I currently reside in Idaho with my husband, English Bulldogs, and 5 birds, although I spend a good amount of time with family in Virginia as well. Additionally, I enjoy superhero movies, hiking around lakes and rivers, skiing and snowmobiling, and endless bulldog snuggle time!

Information about Champ Frazier - Champ is a 7 year old English Bulldog. I have raised him and had him in training since a puppy at 8 weeks old. Champ passed his obedience and socialization training classes with flying colors prior to the age of 1 years old, obtaining both the AKC Star Puppy and Canine Good Citizen awards/certifications. Shortly following he tested to become a certified therapy dog with Therapy Dog International and continues to hold that certification. He is a bundle of love that enjoys being scratched behind the ears and on his belly rolls. He is the definition of unconditional love, as he is perfectly content laying at your feet and gracing you with his blissful snore. Whether a young child, adolescent, or adult, Champ will shake your hand and enjoy brightening your day and bringing a smile to your face.

Information about Molly Frazier - Molly is a 6 year old English Bulldog. We have also raised her since a puppy. Though she had a rough first two years of life, including a couple of joint surgeries, she remained in her training and passed her CGC and TDI certification tests by the age of 1 years old. She is a very playful and loving pup that wants to be included and loved on by everyone she meets. She makes adorable sounds while she plays and sleeps, including snorting like a pig, mooing like a cow, and snoring like a dinosaur... if dinosaur's snored. Molly is a delight to the clients she works with, both children and adults, and will be sure to make you laugh every time you visit.

*** Please note that one or both therapy dogs may be present at a time. However, requests can be made if one suits your personality more or they would be happy to take turns.